Thank you Tammy and Clare of
Teachers for Teachers
for sharing information regarding the "Book A Day Challenge", and thank you Donnalyn Miller of
Nerdy Book Club
for setting such a lofty goal and wonderful challenge for teachers and readers everywhere!! Participants are encouraged to post on Facebook, Twitter, blogs...whatever social media you use...#bookaday!
I can't wait to get started reading and sharing, but most of all I'm excited to hear from others about the great books they are reading and the ideas and inspirations they take away from books.
Book #1...My Name is Not Alexander
My daughter chose this book at the bookstore sometime in February, but we brought it home and somehow never read it. I'm so glad I took time to read it for this challenge.
My Name Is Not Alexander
is about a little boy who imagines he is everyone from Teddy Roosevelt to his own Father. One of my favorite things about this book is the positive message it sends of greatness. Whether the boy is imagining that he is Jackie Robinson, his dad, or finally himself he speaks of greatness. Needless stay this book would be a wonderful springboard into famous people from history. The boy speaks of Teddy Roosevelt, Thomas Alva Edison, Fred Astaire, Jackie Robinson, his Father and Himself...there is brief write up of each on the final pages of the book.
What's Great About Me
Students could create a self portrait and write a paragraph sharing what makes them great. It might be fun to leave the names off and let classmates guess who is who.
What's Great About (someone you love)
Just as Alexander saw the greatness in his father, encourage students to recognize the greatness of someone important to them and write about it. Students could even share what they've written with their someone.
I AM (famous person's name)
students write in the format of the book
My Name is Not Alexander
and tell about the historical person they choose to be, then illustrate. Pages could be put together for a class book.
Oral Report On A Famous Historical Figure
Students dress in character and share their report with the class, make poster board costume with cut out for face, or make a bottle bobble head to go with it. Fun Biography ideas...
Biographies on Pinterest
(There is also a "sister" book to this one. The title is...
My Name is Not Isabella.)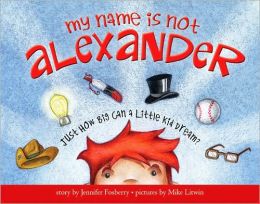 A great book full of opportunities for learning!!
Happy Reading,
Jennifer